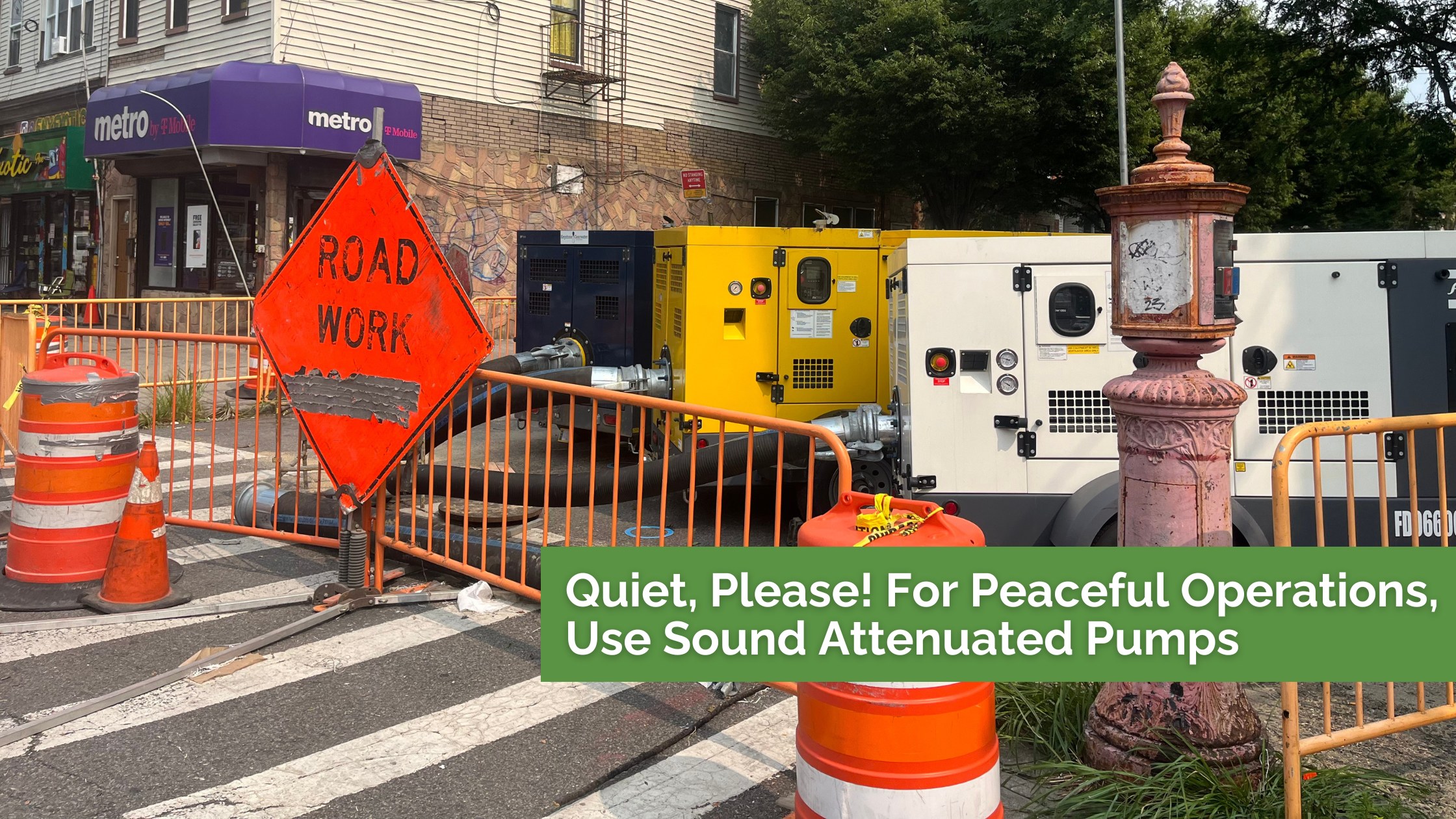 August 08, 2023
Quiet! For Peaceful Operations, Use Sound Attenuated Pumps
When choosing a high-performance pump for bypass and dewatering operations, you need a pump that is reliable and durable. And when working in residential areas or near hospitals and schools, you'll need one that's quiet, too. That's why sound attenuated pumps make the best choice when renting or purchasing pumps for projects in noise-sensitive areas, such as a sewer bypass.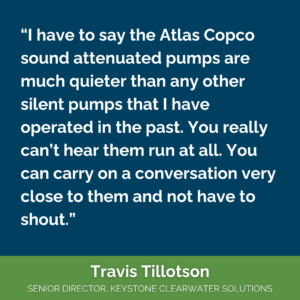 Sound attenuated pumps, or silent pumps as they are also known, have a soundproof enclosure to keep noise generated to within acceptable levels. In addition to enhancing community relations around noise-sensitive facilities, the reduced decibel (dB) level of sound attenuated pumps make it safer and easier for workers to operate and maintain equipment.
Loud noise can contribute to workplace accidents and injuries by making it difficult to hear high frequency sounds and to understand speech. It can reduce workers' awareness of their surroundings and increase fatigue and stress, according to OSHA. In addition, it can cause permanent hearing loss, health issues, and physical and mental stress.
Atlas Copco sound attenuated pumps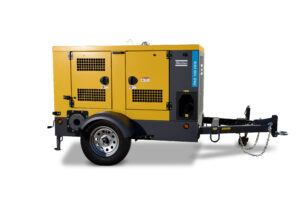 In noise-sensitive areas, FieldForce recommends using Atlas Copco's sound attenuated pumps. Atlas Copco pumps are well-known for their exceptional performance and reliability and are suitable for a wide range of applications, including municipal wastewater management, sewer bypass, construction, industrial, mining, environmental cleanup, and oil and gas projects.
Travis Tillotson, Senior Director for Keystone Clearwater Solutions, has been working in the oil and gas industry for more than a decade. "I have to say the Atlas Copco sound attenuated pumps are much quieter than any other silent pumps that I have operated in the past. You really can't hear them run at all. You can carry on a conversation very close to them and not have to shout."
Atlas Copco sound attenuated pumps are rated at 72 dB at 30 feet. To put it into perspective, a typical conversation is roughly 50-60 dB and OSHA's permitted exposure level is 90 decibels averaged over an 8-hour period (dBa).
More ways to reduce pump noise
Pump noise levels can also be impacted by poorly maintained equipment and clogs in the impeller. Keeping up with regular pump maintenance can greatly reduce unnecessary noise. The swing door on Atlas Copco pumps make it easy to change wear components and clear debris without unhooking the line, saving time and hassle.
Another cause of excessive noise in pumps is cavitation caused by inadequate flow and pressure. This forms bubbles that cause noise and vibration and can cause internal damage, including to the impeller. A pump experiencing cavitation will consume more power, too. FieldForce's experienced team is available 24/7/365 to source your equipment needs and support you with equipment specifications, delivery, installation set-up, maintenance, and monitoring on-site if required.
Expert solutions
Backed by Keystone Clearwater Solutions' decades of experience in providing water transfer solutions for the natural gas industry, FieldForce brings that expertise to the municipal, industrial, and construction markets. Whether you require assistance in choosing equipment for rental or purchase or need a complete turnkey solution, FieldForce can help. We maintain a large workforce and well maintained asset base (including equipment from Atlas Copco, Pioneer, and Dominight) to meet any complex water or wastewater management project in the mid-Atlantic region.