Surface pumps available for any surface dewatering application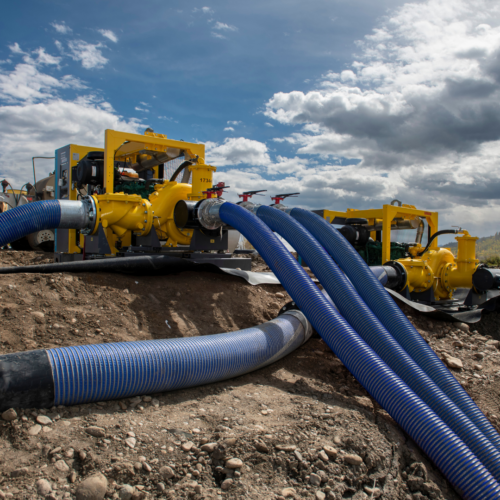 FieldForce provides dewatering services for a wide array of municipal, construction and industrial applications, including excavations, mine and quarry dewatering, environmental response, creek bypass, and many other applications dealing with high-volume water and fluids. We offer a large, multi-functional workforce, well-positioned yard locations, rapid response capabilities, and a large fleet of pumps and equipment.
We understand pumps, their applications and, most importantly, the best ways to use them in different industries.
1. Mining and quarry dewatering
For dewatering applications in mines post-dredging, our pumps offer effective and efficient solutions due to their solids handling capability.
Application
Dewatering
Water relaunching
Washplants
Silt and sludge removal
2. Municipalities
Municipal public service applications can vary from sewage bypass to wastewater treatment plants to water reclamation centers. When wastewater is being treated, our pumps handle the fluids and solids without clogging or failing.
Application
Sewage bypass
Dewatering
Emergency water treatment
3. Construction
It can be critical to avoid water infiltration during the casting of a foundation on a construction site. Our pumps have got you covered.
Application
4. Industrial
Application
Effluent handling and transporting
Waste drainage and disposals
5. Civil works
Civil engineering projects are fast paced. Be it construction of road, dams, bridges, airports or building, site dewatering and drainage, before and during construction work is very important.
Application
Sump water removal
Dewatering
6. Flood controls
Our pumps, due to their high performance and portability, are effective at providing quick solutions in case of a flood emergency.
Application
Emergency pumping and dewatering
7. Rental
Rental applications require robust and long running products. Our "start and forget" control panels and more than 24-hour fuel autonomy make them ideal for such applications.
Application
General construction
Flood controls
Industrial
Mine and quarry dewatering
Case Study
Atlas Copco WEDA Dewatering Pumps
WEDA electric submersible pumps and accessories are designed for an extensive range of dewatering applications, across multiple industries. They provide the performance, reliability, and ease of use you need. WEDA pumps feature a built-in starter and motor protection system along with optional automatic level control. Adjustable wear-resistant rubber diffusors and hardened high-chrome impellers ensure durability in tough environments.
We have a complete range of high-quality and lightweight electric submersible pumps designed specifically for drainage and sludge pumping applications. WEDA pumps are made for durability. The unique sealing system and modular design make them among the most flexible pumps on the market. The WEDA seal system is designed to provide the optimum maintenance solution and can be easily fitted at the job site.