Need it?
Call us. Done.
Rental equipment and service solutions for bypass, dewatering, and much more.
FieldForce provides equipment and temporary pumping solutions for the municipal, construction, manufacturing, and industrial sectors.
Within our fleet, we carry Atlas Copco pumps, compressors, and generators available to rent or purchase. In addition, FieldForce also carries temporary piping, filtration equipment, light plants, and heaters available to rent.
Rely on FieldForce to deliver solutions for complex water management projects, including temporary pipeline, specialized filtration, and scheduled facility maintenance.
Bypass & Dewatering Services
Locations
41 Taylor Lane
Hallstead, PA 18822
385 Technology Drive
Triadelphia, WV 26059
Case Studies
Learn about our process by reading success stories from previous projects.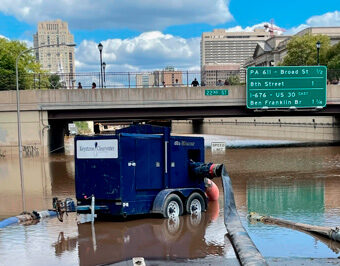 Emergency Flood Support
FieldForce responded within hours to deploy four high-volume pumps and necessary layflat hose for a rapid response scenario to complete the dewatering of Philadelphia's Vine Street Expressway, following the flooding caused by Hurricane Ida.
View Case Study
Spec Sheet for Atlas Copco Equipment
Download