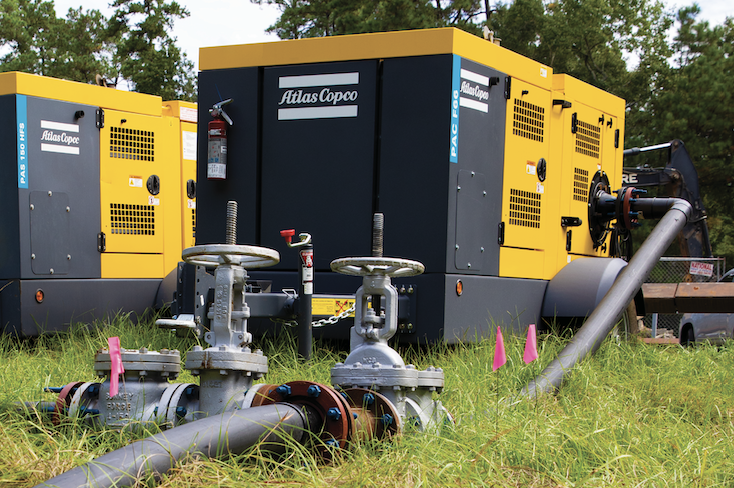 August 25, 2022
Atlas Copco Pumps, Compressors, & Generators Sales & Rental
Atlas Copco Pumps, Compressors, And Generators Provide Exceptional Performance for FieldForce Equipment Sales & Rental Customers
FieldForce Equipment Sales & Rental, a division of Keystone Clearwater Solutions, recently partnered with Atlas Copco to offer sales, rentals, and service of Atlas Copco Power Technique pumps, compressors, and power generation solutions in PA, WV, and parts of NY. Atlas Copco has a worldwide reputation for high-quality products used in the construction, municipal, and oil and gas industries.
Our FieldForce customers often have complex projects, including heavy construction, utility line service, emergency response and backup support, or for other related construction or industrial work needs. Atlas Copco pumps, compressors, and generators consistently deliver powerful performance in the field. As an added bonus, Fleetlink, Atlas Copco's dashboard for compressors and generators, adds real-time machine fleet monitoring and management capabilities, too. FieldForce customers also like features such as easy-access control panels, auxiliary fueling, and maneuverability. Here's a summary of some key equipment types.
Pumps
Atlas Copco pumps are well-suited for bypass, dewatering and emergency response. Centrifugal pumps can handle liquids containing solids, which makes them ideal for water transfer in the oil and gas industry and for municipal and construction applications where pumps are often used continuously. Site dewatering pumps can handle high volumes, to displace not only water, but sewage, industrial waste, chemicals, and even fluids with solids. In an emergency, such as a hurricane, flood, or main break, pumps must also be able to process liquids and solids quickly and efficiently.
Compressors
Atlas Copco's mobile compressors provide versatility to handle pressurized air needs on any job site, from powering rock hammers to spraying gunnite. Efficient and easily towable, these compressors come in a range of sizes and features. As an authorized dealer, FieldForce personnel can help you determine which model best suits your project.
Generators
Atlas Copco mobile diesel and gas generators provide reliable power wherever it is needed, from oil fields to emergency response sites. A corrosion treated, water-proof canopy and the ability to work at high and low ambient temperatures make these generators suitable for any application. FieldForce also can supply larger units that will handle paralleling and balancing power loads.
Endorsed by industry veterans
Since being added to the FieldForce inventory, Atlas Copco equipment has proven effective and reliable. The silent pack pumps have performed exceptionally well. The lower decibel output of the Atlas Copco silent pack pumps is beneficial for health and safety, communications, and noise control in residential areas.
Dwight Basa, Senior Managing Director at Keystone Clearwater and an industry veteran of 13 years, has been using the 4" vacuum assisted pumps and the 6" silent vacuum assisted pumps for drill out and flow back operations in the natural gas field. He noted, "Some of the highlights that the guys in the field like about them are the versatility of the pumps. The 4' tow-behinds are lighter than what we normally get. They are easier to work on, easier to place and easier to move around. There is not cumbersome maintenance all the time, and overall performance is good on those pumps. The 6" pumps that we have are also silent packs, so they are not loud. Reducing noise helps with communications between team members who don't have to yell over the pumps when talking or on radio communications."
Travis Tillotson agrees. The Senior Director for Keystone Clearwater has used the Atlas Copco pumps on jobsites for Repsol and Chesapeake Energy. He said, "The silent packs are really quiet. You really can't hear them run at all. You can carry on a conversation very close to them and not have to shout." Tillotson, who has been working in the industry for 13 years, added, "I would have to say the silent packs are much quieter than any other silent packs that I have operated in the past."
For more about Atlas Copco Power Technique pumps, compressors, and generators, visit fieldforcerentals.com/equipment/
Contact us to learn how Atlas Copco Power Technique equipment would suit your specific project needs.