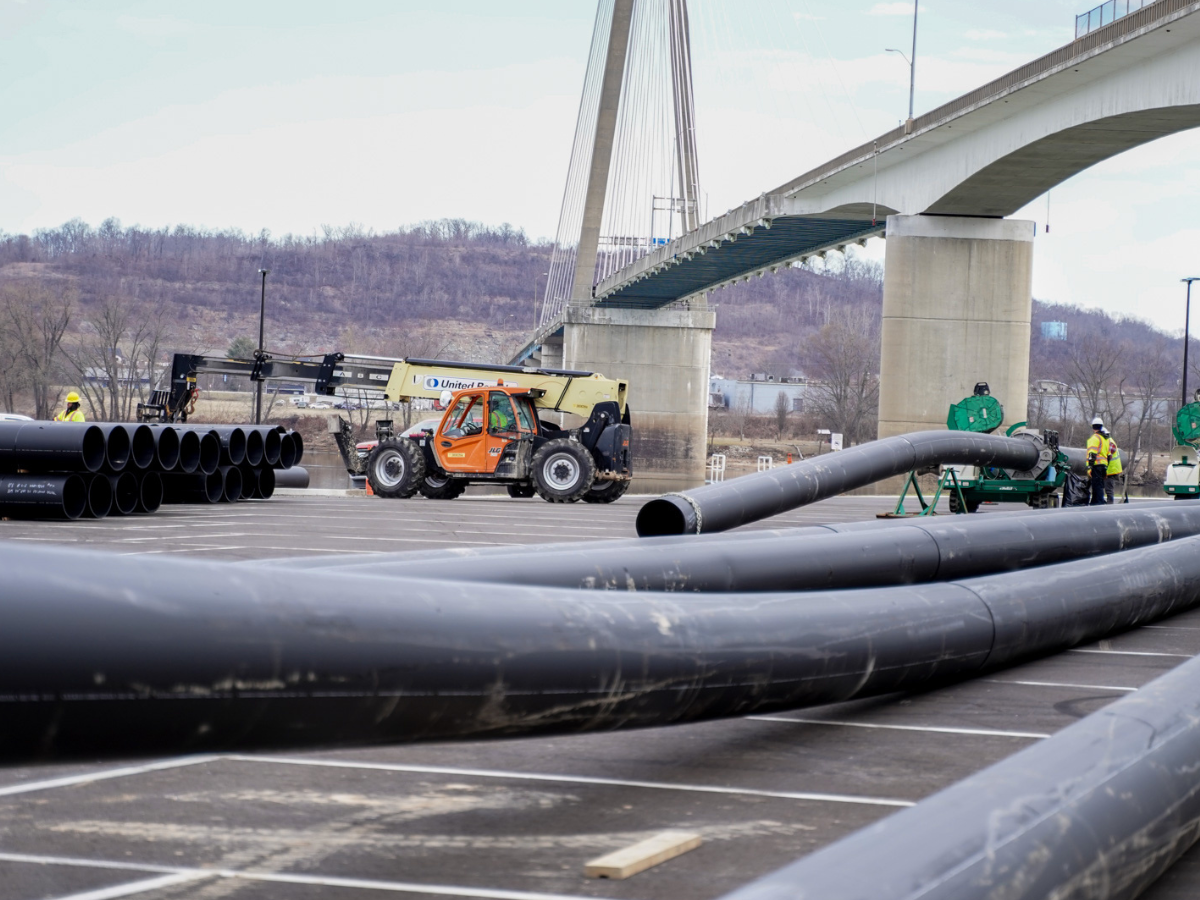 Emergency Temporary Bypass in Huntington, WV
Response to East Palestine, OH train derailment
On February 3, a Norfolk Southern train carrying toxic chemicals derailed in East Palestine, OH, a small community along a stream that feeds into the Ohio River. Fifty cars were involved in the derailment and subsequent fire. Out of concern for a potential explosion, on February 6, authorities evacuated the area and then released and burned the toxic chemicals, sending vinyl chloride, butyl acrylate, ethylhexyl acrylate and ethylene glycol monobutyl into the air, ground and water supply. Norfolk Southern has estimated 1.5 million gallons of contaminated water has been collected from the derailment site.
The Ohio River is a primary source of water for people in the Huntington, WV area. On February 10, we were called to install a secondary intake on the Guyandotte River, upstream from the normal intake point. Within hours, 4 team members with FieldForce Rentals, Services, & Sales were on site to install a temporary bypass to connect the secondary water source to the water treatment plant.
"There was a need to respond quickly due to a real risk of contaminated water withdrawal, as the contaminant was identified to be moving downstream," said Jeff Wehler, Senior Vice President of Keystone Clearwater Solutions.
Installing the temporary bypass
This project required rapid site assessment, hydraulic modeling, evaluation of stream conditions and the water withdrawal site, and coordination of more than 10 loads of pipe, equipment, and material. We quickly installed a 24" HDPE temporary waterline and a pump station and water withdrawal system using three 12×12 pumps and a 10×8 pump.

Services included fusing, stringing, and deploying 3,750 feet of temporary 24" HDPE waterline. Our certified HDPE poly pipe fusion technicians have experience fusing pipe of varying sizes and pressure ratings for challenging transfer operations, including extreme terrain, long-range pumping distances, high total dynamic head conditions, high pressure zones, and high velocity pumping. FieldForce has an inventory of hundreds of miles of temporary pipe and pumps sized for any application, to handle routine projects or emergency needs.
According to Adam Bates, Managing Director of Keystone Clearwater Solutions, "It was a typical temporary bypass install for us, just on an accelerated timeline. It was operational within 3 days of receiving the call, thanks to the hard work and expertise of our FieldForce crew."
FieldForce, a division of Keystone Clearwater Solutions, maintains an experienced workforce, well-positioned yard locations, and an extensive fleet of pumps and equipment for rapid response 24/7/365 as well as routine projects. Services include temporary pumping, dewatering, bypass temporary storage, filtration, and other construction-related rapid response services. We also deliver specialized Atlas Copco Power Technique and other brands of equipment (pumps, generators, compressors, light towers, and more) for rental and sales.