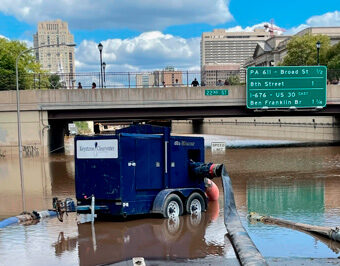 Emergency Flood Support
Philadelphia I-676 Vine Street Expressway Dewatering
In early September 2021, Hurricane Ida brought record rainfall to the city of Philadelphia, causing the Schuylkill River to overflow. A mechanical failure of a pump station then caused a complete shutdown of Philadelphia's main traffic artery through Center City, the Vine Street Expressway. PennDOT crews reached out to us knowing of the high volumes of water we pump on a daily basis.
We responded within hours to deploy four high-volume pumps and necessary layflat hose for a rapid response scenario to complete the dewatering of Philadelphia's Vine Street Expressway, following the flooding caused by Hurricane Ida. Crews from Central and Northeast Pennsylvania were deployed from our shop locations, loading heavy haul trucks with 325 horsepower pumps, one-mile of 12" layflat hose, and many other large volume hoses and system components to pump large volumes of water. Heavy equipment, including skid steers and a telescoping forklift were also deployed to allow us to quickly install the system, once on site.
I-676 had been completely shut down and, upon arrival, our crew members met with the Pennsylvania State Police to be escorted directly to the job site. On site, our crews rapidly worked to rig-up pumps and deploy layflat hose to dewater the Vine Street Expressway, with a plan to discharge the floodwaters back into the Schuylkill River. Over a period of 48 hours, our crew had completed the dewatering operation, leaving the final clean-up of the remaining mud and debris for the PennDOT crews on site.